Mancala and other
"Count and Capture" Game Boards

Often, these boards are used with the sea-bean: Gray Nickarnut, Caesalpinia bonduc

"Count and Capture" games using similar boards are known by the names:
Mancala (or Mankala), Manbula, Bao, Mbao, Wari (or Warri), Kisolo (or Cisolo), Oware, Kalaha, Sungka, and Awale.

Mancala boards, and Bao boards, can be found in an incredible variety of shapes, sizes, and configurations.
This link, for Anxient Board Games, has a section for Mancala.


Many other examples of boards are shown on additional pages:
Page 1 | 2 | 3 | 4 | 5 | 6 | next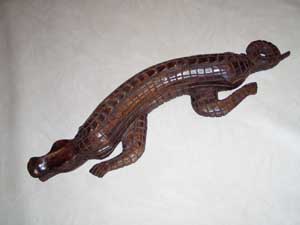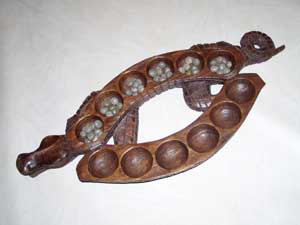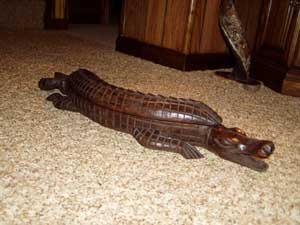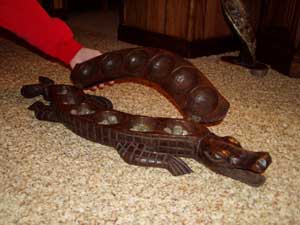 This carved alligator has a topside that is hinged to the bottom.
Open the top and the Mancala board is revealed!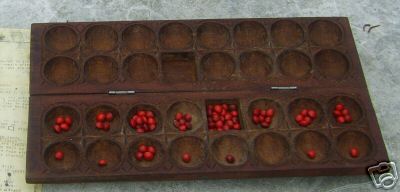 A Mancala Bao board game from Lamu Kenya. Note the single, square well on each side.


Two, three, or four-player Mancala Board

Known as "mancala" in many places, in the Philippines
(where this board came from), it is called "Sungka".
Made of solid wood with painted patterns and seashell game pieces.
The board measures 30" x 6" x 1" thick.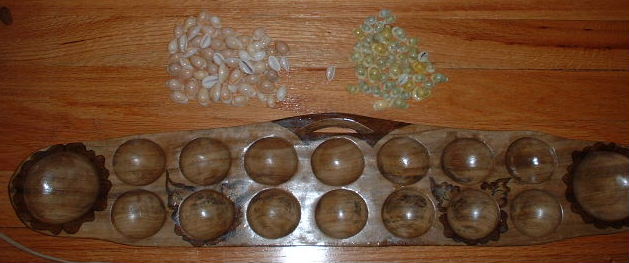 Mancala game with wood board and carved handle at top for carrying. There are 45 green seashells and 57 orange shells.
Board measures 26" x 5" x just under 1" thick.

Links
Count and Capture Games
which included a reprint of a 100 yr old article on mancala games:
Mancala, The National Game of Africa
A really good article on these games in Africa is
Michezo ya Mbao -- Mankala in East Africa
Omweso:
International Omweso Society
Play Omweso on your computer:
Omweso

Return to Top

Sea-Bean Games - Mancala & other Count-n-Capture Games!
ALL web pages © www.seabean.com --- All rights reserved.
ALL photos © www.seabean.com or other photographers individually credited.
Use of ANY photo without written permission is prohibited!