Symposium Photos
by Margie and by Paul
Note: Slide show is automated, with slides advancing every 10 seconds.
---
This Sea-Bean Symposium includes displays on sea-beans and other beach "stuff",
as well as presentations, identification sessions, door prizes, sea-bean jewelry, books on sea-beans,
Ed Perry's book and The Little Book of Sea-Beans for sale,
the Bean-a-Thon contest, and much more!

The 2005 T-shirt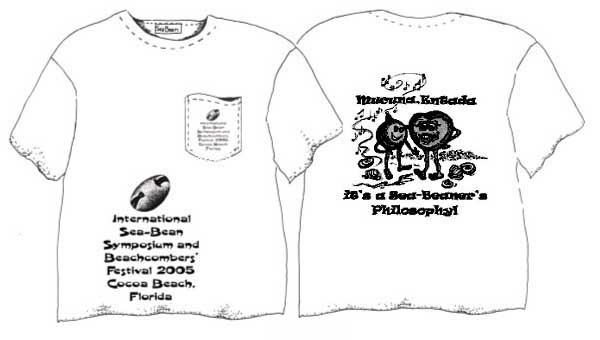 Check out
last year's (2004) symposium!
To prepare for your visit to the symposium and Florida's beaches, check out this
one page
Simple Guide to Florida Sea-Beans
or the online
Sea-Bean Guide

Return to Top

10th Annual International Sea-Bean Symposium, 2005
ALL web pages © www.seabean.com --- All rights reserved.
ALL photos © www.seabean.com or other photographers individually credited.
Use of ANY photo without written permission is prohibited!