Mexican Oleander or Yellow Oleander
Thevetia peruviana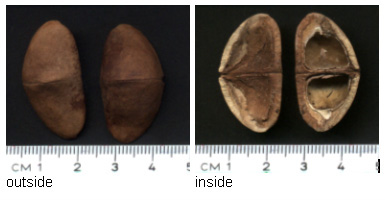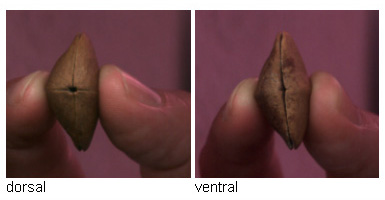 Photos courtesy of Detlef D. ("Det")
This seed was collected by Det, along with many others from beaches near Speyside, Tobago

The fruit outside is hard and woody and on the more rounded side there is a small hole, maybe a micropyle?
The fruit dimension is round about 3 cm in length, 1.8 cm in width and 1.5 cm in height.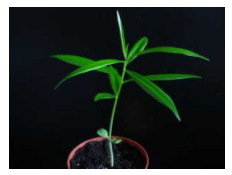 Photo courtesy of Det
It was put it into earth and after a while two seedlings were growing up.
One of the seedlings is pictured here.
---
Identification courtesy of Nicky D.
A quick- growing plant native to tropical America planted in full sun in tropical countries for its abundant yellow, orange or cream flowers.The elliptical brown box in which two seeds are enclosed looks like the "deer hoof seed" of Ochrosia elliptica. All parts of the plant are poisonous! countains alkaloids (thevenine) wear gloves when handling these seeds! In Mexico the wooden seeds are used to make ankle-bracelets by dancers, it makes a lovely rattle sound. In Peru and Bolivia they just string them by dozen to make rattles they hold in the hands for musical instruments. The drupe fruit is used in a ritual drink to protect from bad spirits. The bark is used in controlling fever in some Asia countries.Medicine for toothache and skin sores from the seeds and insect repellant from the leaves. Cheers, Nicky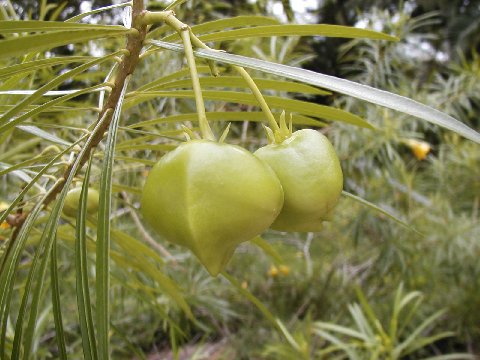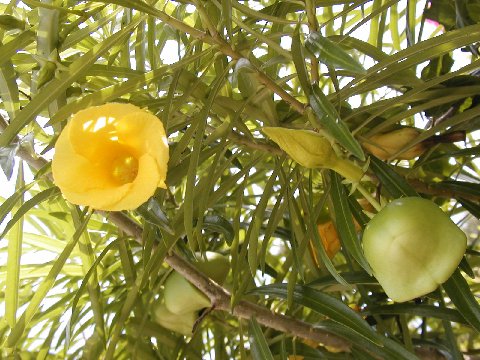 Photos courtesy of Nicky.
---
From Ed Perry: We also call them "lucky nuts". I have found 3 or 4 on Florida beaches, and two or three in Mexico on beaches.
I bought two wonderful noise makers/rattles made out of them in Puerto Rico.

Return to Top

A Sea-Bean Guide: Mexican Oleander (Thevetia peruviana)
ALL web pages © www.seabean.com --- All rights reserved.
ALL photos © www.seabean.com or other photographers individually credited.
Use of ANY photo without written permission is prohibited!