CATHIE'S BEAN
Canavalia nitida
This sea-bean is named Cathie's Bean in memory of Cathie Katz, aka The Sea-Bean Lady.
Cathie's energy together with her love of nature and sea-beans pulled the sea-bean community together with the creation of
this web site, The Drifting Seed newsletter, and the annual Sea-Bean Symposium.
From the Gunn & Dennis World Guide: "This bean, a member of the family Leguminosae, is about 25 mm long, about 15 mm wide, elliptical, compressed slightly in cross section, dark wine red, black, or dark tan, smooth, bearing a black linear hilum about 25 mm long (longer than the length of the seed). This species is a native of the West Indies. Sauer (in a 1964 monograph) reported the seeds to be impermeable to water for at least 1.5 years and not buoyant."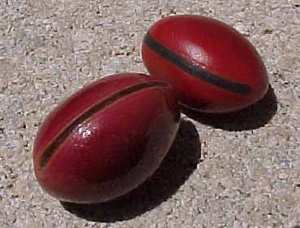 These drift seeds have been collected from the beaches of Europe and the southern United States. Photo: Ed Perry
On page 13 of the the May 1, 2002 issue of The Drifting Seed, Ed Perry stated: "In my opinion, the two pictured at the left are the most beautiful driftseeds in my entire collection. They have always reminded me of Cathie, anyway, as they are rare and beautiful, and red! I nominate this seed to be called Cathie's Bean henceforth."
The common name "Cathie's Bean" is now as official as it can ever be!
On June 16, 2002 at the request of Bob Gunn, John Wiersema has entered the tropical drift seed called
Canavalia nitida
into the USDA/ARS
GRIN
(Germplasm Resources Information Network)
which has thus recognized
Canavalia nitida as Cathie's Bean.
This seed has also been called:
Red Ocean Seed, Red Mate Seed, Mate Rojo, Orisha, Ifa, Palo Mayombe, Briyumba, and Kimbisa
This species is also known as the
Bahama Baybean
This name was applied to a junior synonym,
Canavalia bahamensis
, and thus now also applies to
Canavalia nitida.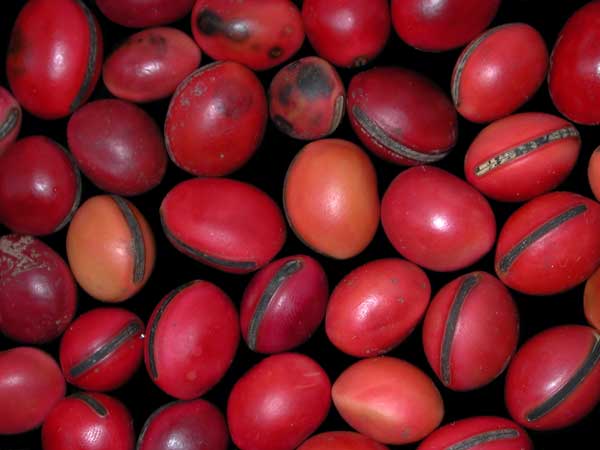 Canavalia nitida
displays a variety of colors, shapes, and sizes.
Lighter ("washed out"?) colors
may
be due to bleaching by the sun,
but if so, only one side should be colored lighter... lighter colored seeds are lighter all around.
Rarity and Flotation
A total of 510 seeds were purchased, over 3 shipments, and used to conduct a flotation test in both fresh water and salt water.
The results of this test provide documentation regarding why they are so rarely found on Florida beaches.
Shipment
Qty. of
Seeds
Floated in
Salt water
Floated in
Fresh Water
Salt Water
Float Ratio
1
40
2
2
1 in 20
2
170
7
3
1 in 24
3
300
10
6
1 in 30
Totals
510
19
11
1 in 27
This seed is also listed on the
"Desirable Sea-Beans of Florida and the Probability of Finding Them"

.
Note:
The chart is copyrighted by ©Christopher Boykin
;
not to be used for any commercial purpose without his expressed written permission.
The probability of finding a Cathie's Bean in a collection of only "desirable" sea-beans is
1 in 16,964
.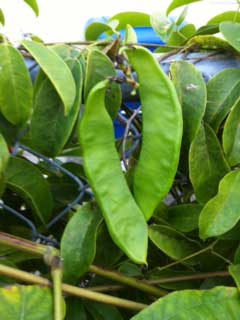 Left to right: Flowers, pods, and maturing pod. A fully mature pod will be dry, brittle, and brown.
Compare with the
Beach Pea, Canavalia rosea
All three photos: Gina Reed

Links
USDA / ARS = U.S. Dept. of Agriculture / Agricultural Research Service
GRIN =
Germplasm Resources Information Network
For herbarium sheet of the leaves and pod, go to the
Virtual Herbarium