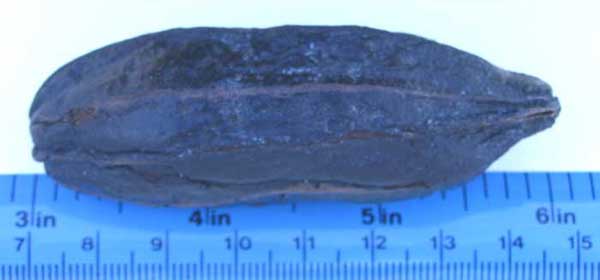 Unidentified!
Mary guessed that this seed MAY be a very small, dried and shrivelled up fruit of a Sausage Tree
It LOOKS like a dried Sausage Tree fruit, but if it is, it's a very small one... it's only 3 inches or so.
These fruits get quite large, and very heavy, when mature. However, they do start out small and are
comparatively light when dried.
Ed guessed a dried Papaya fruit, Carica papaya, but suggested opening the fruit to learn more.

Kevin stated: The pod is a kapok seedpod, Bombax ceiba.
If it is cut open, there are seeds and fluff inside.
It might be a fruit that was picked green (or broke off green) and drifted down river and out to sea.
Finding NO images of Bombax ceiba on the web, I posted photos of my Kapok pod & seeds...
I have no clue what species I have, but it is a similar pod!