Cathie Katz's Tumbling Procedure, by Ed Perry

1. You must do the grinding stage totally dry. I use 20-30 grit sandblasting sand (from Rinker, Home Depot, etc.), just enough to cover the beans (about 20-30 small beans, or various combinations if doing seahearts, etc.), and change the sand every week or so. There is no need to use different grits if you use this. Cathie Katz and I used this alone, and had our best results.

2. Check the tumbling beans each week. When the beans are ground fairly smooth (it varies by species, e.g., nickars and Mary's Beans need only about 1 week of grinding, seahearts about 2 weeks, red hamburgers about 2 months, and brown hamburgers up to 4 months!), remove them, wash them clean with a scrubbie pad, then dry immediately.

3. They are ready for the polishing stage. This is done in a separate barrel from what you used to grind. Never mix the two. Polishing is done with crushed walnut shell and a teaspoon or so of a high quality liquid car wax. Most beans need about 1-2 weeks in the polishing phase for a high gloss. If they weren't ground smooth enough, they won't shine as well.

[Previously, we used EC4 cream reagent as a polishing compound. The EC4 could once be purchased from PegCo, in New Hampshire; 603-374-2341, but they likely no longer carry the product.]



I have never found a need to use the ground corncob after the walnut shell polishing, but I have heard of people who use it instead of the walnut shell, and say it works also.

It takes some practice, but you'll eventually get good results.
Good Luck,
Ed Perry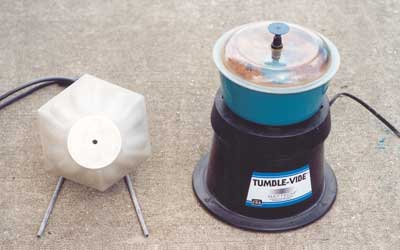 Ed Perry's Tumblers
Photo by Ed Perry


There are two main types of tumblers. The device on the left (white) is a rotary tumbler, the other on the right (blue) is a vibratory tumbler. Ed prefers the rotary for the grinding phase, that smooths down the beans and prefers the vibratory for the polishing phase. The vibratory was made by RayTech, but they are all pretty much the same Both of these tumblers have about a 5 lb. capacity.



Cabelas is a good place to order vibratory tumblers.
The rotary tumbler came from A.E. Aubin Company.