Sea-Beans of Florida, USA
Florida is a state located in the southeast of the United States of America (USA).
This website is managed from Florida, and most of the sea-beans represented throughout the site
are those that are common to Florida shores.

The following chart of "desirable" sea-beans was created by Christopher Boykin. The photos are great! Christopher calculated the probabilities of finding each seed (on Florida's central eastern coast) using Bill Blazek's incredible data log of all the seabeans that Bill had found over many years of collecting north and south of the Jupiter Florida area.

"Desirable", for purposes of this chart, are those sea-beans that are considered to be the best of the "keepers" when found, in part because of their beauty and in part due to their rarity. Clearly, many other sea-beans stranding on Florida shores are desirable to find, keep and share.

This "Desirable Sea-Beans of Florida" chart (available in PDF format and high resolution [2550 X 3299] JPG format) is available as a free download for personal use. The chart is copyrighted by ©Christopher Boykin and may not be used for any commercial purpose without his expressed written permission.



Compare with Mike Ley's
"Desirable Sea Beans of Florida ...and the Probability of Finding Them" - by Christopher Boykin
"Desirable Sea Beans of South Texas Beaches ...and the Probability of Finding Them" - by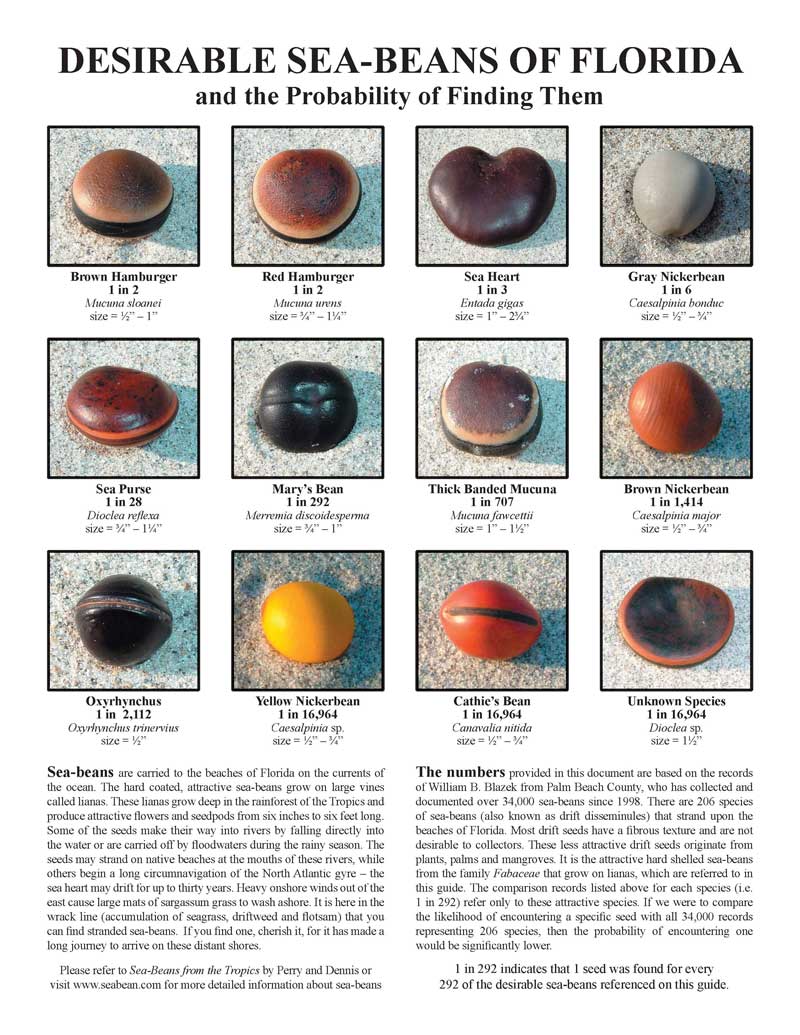 Links
Tropical Drift Seeds ("Sea Beans")
- A graphic guide to sea-beans, mostly found in Miami, Florida, USA.
A compilation by Nathan Kinkade

Return to Top