Deer Hoof Seed
Also known as Elliptic Yellowwood
Ochrosia elliptica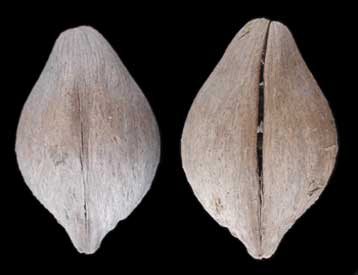 Specimens are rarely found (in Florida) with the outer husk still intact (left photo),
but are more commonly found with this eroded away (right photo).
A native of Australia, this species is listed in Florida (USA) as a
"
Category II Invasive exotic
"
...
those plants that have increased in abundance or frequency
but have not yet altered Florida plant communities to the extent shown by Category I species.

Links
Ochrosia elliptica
- fresh fruit image
Elliptic Yellowwood: Ochrosia elliptica (Gentianales: Apocynaceae)
2001 List of Invasive Species
- Florida

Return to Top

A Sea-Bean Guide: Deer Hoof Seed (Ochrosia elliptica)
ALL web pages © www.seabean.com --- All rights reserved.
ALL photos © www.seabean.com or other photographers individually credited.
Use of ANY photo without written permission is prohibited!