Antidote Vine
Fevillea cordifolia
"It has been used as a purgative, reputed antidote for many kinds of poisoning, and as a treatment for numerous diseases."
[from: George L. Robinson and Richard P. Wunderlin; "REVISION OF FEVILLEA (CUCURBITACEAE: ZANONIEAE)";
1974; BRIT.ORG/SIDA 21(4). For a 1
.
8 MB, 26-page copy in pdf format,
Click Here
!]

Very worn specimen.

Fresh specimen.
Photo: Audrey Wilber

Another "edge" view of a freshly-collected specimen.
Photo: Audrey Wilber

"Top" view of the fresh specimen.
Photo: Audrey Wilber
Photos of the freshly-collected specimen are "clickable" to view a higher resolution image.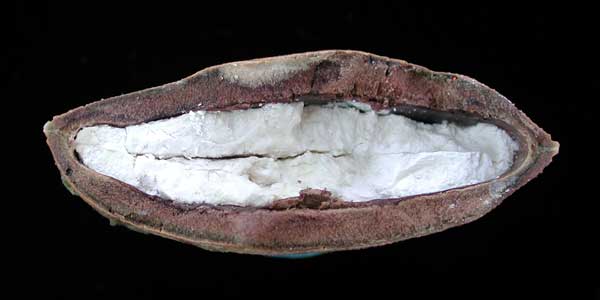 Close-up of interior of the Antidote Vine seed.
See also:
Why Sea-Beans Float

Links
Fevillea cordifolia
- the plant, flower, leaf and seeds
ATRIUM - the biodiversity information system
- leaves, fruit exterior and interior, seeds

Return to Top

A Sea-Bean Guide: Antidote Vine (Fevillea cordifolia)
ALL web pages © www.seabean.com --- All rights reserved.
ALL photos © www.seabean.com or other photographers individually credited.
Use of ANY photo without written permission is prohibited!