"Large Flat Dioclea"Dioclea sp. #003

This "Large Flat Dioclea" has been rarely found washed ashore in Florida, but has also been collected fresh from the Amazonian jungles of Peru and also the jungle mountains of Cuenca, Ecuador and also from southeastern Costa Rica.

The average dimensions (mm) of these seeds are about 37.5W x 31.5L x 11.6H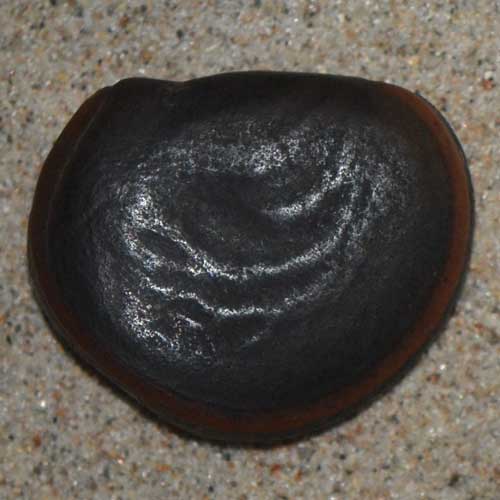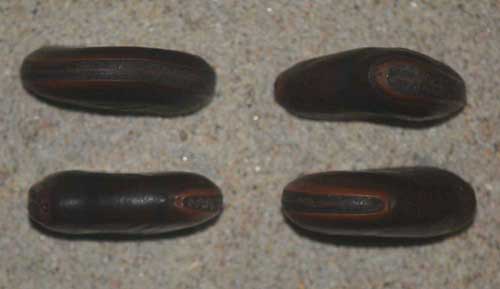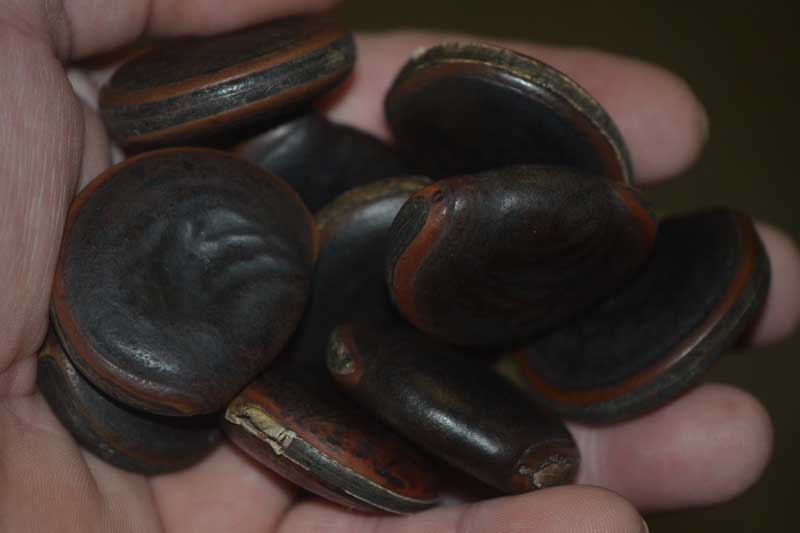 Non-drifted specimens were obtained from 3 locations: Amazonian Peru, Cuenca Ecuador, and Oriente / Guayaquil(?) Ecuador.
ALL specimens sank in both fresh and salt water.

On average, the specimens from the Amazonian region of Peru are larger.

Location
Avg. Width (mm)
Width Range (mm)
Count
Peru
38.7
35.6 to 41.8
19
Oriente
36.4
31.4 to 39.4
10
Cuenca
35.5
32.2 to 39.4
6
All Data
37.5
31.4 to 41.8
35
From all data combined, the average L:W ratio is 1.19
Thus, these "Large Flat Dioclea" are about 20% wider than long.
Want all the measurement data?
...see the pdf document: "Large Flat Dioclea Measurements"


Crossection view of seed
about 40 mm wide and 13.7 mm thick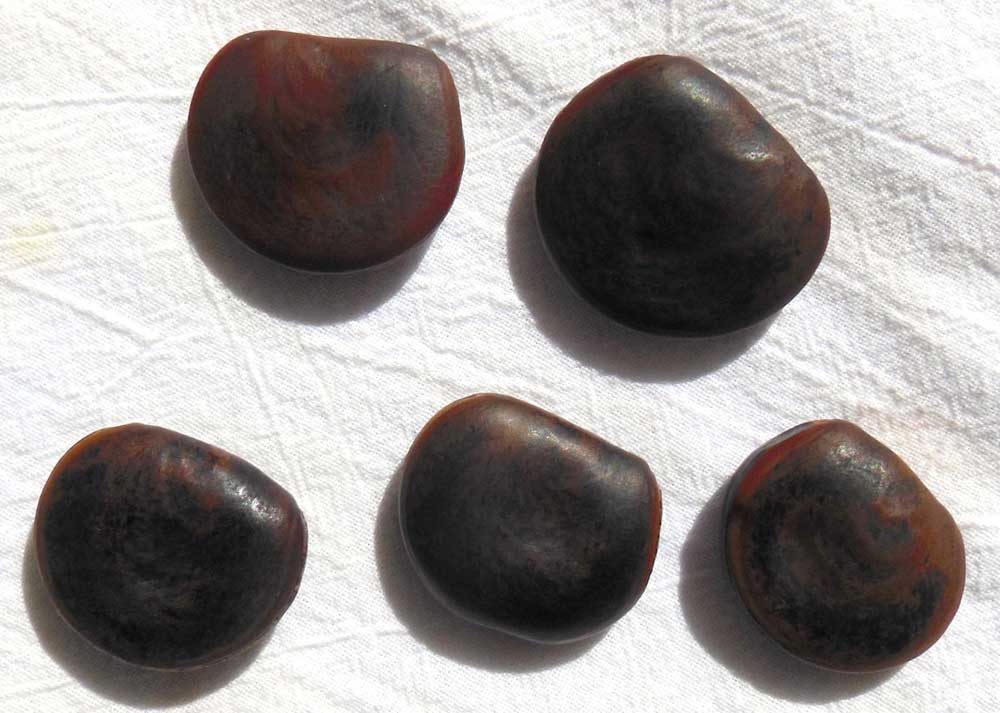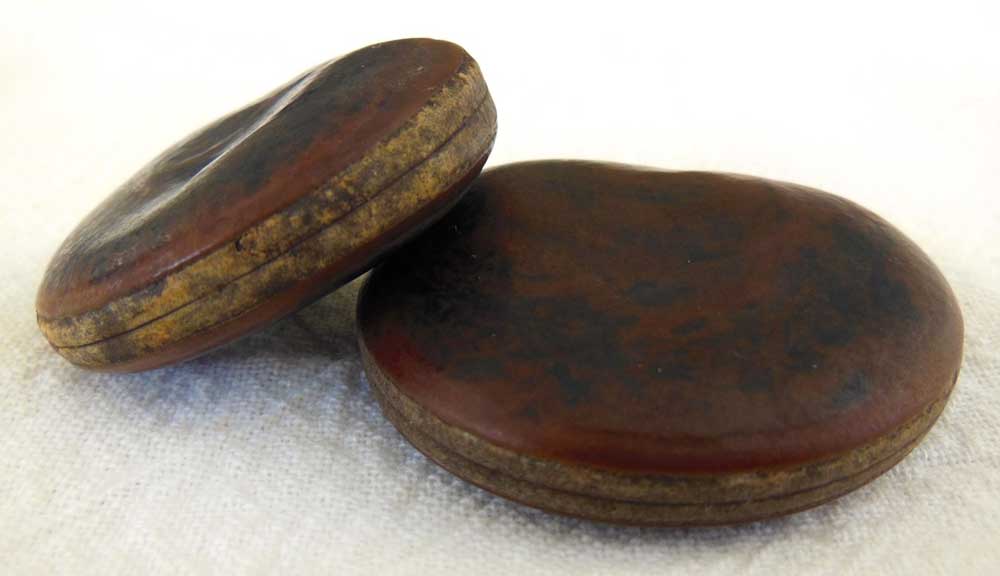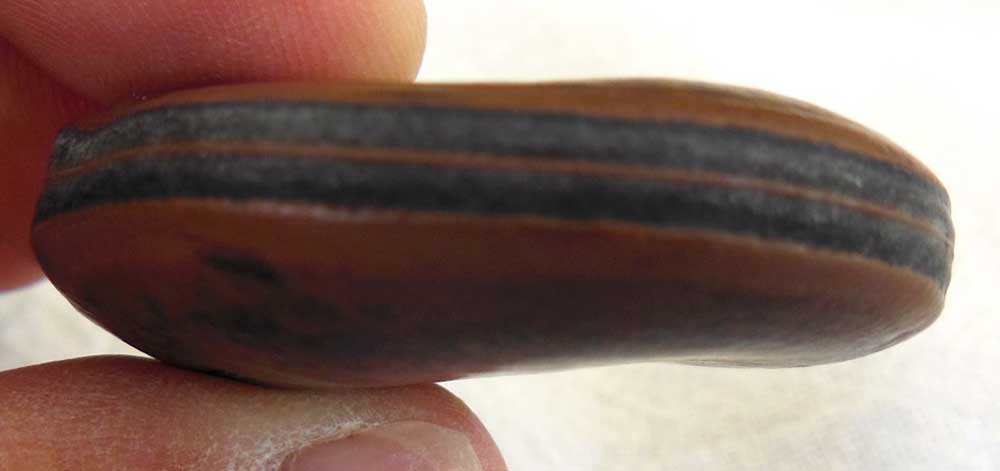 Above 4 photos by Nan Rhodes (
www.BeachBeans.com
).
These seeds were purchased from Cahuita, Costa Rica from a guy whose brother in-law was growing them in BriBri
(a province of Talamanca - Caribbean side of Costa Rica)
None of these purchased seeds float.

Seeds from Ecuador were planted, and in about a week, a sprout appeared!
The sprout is about 70 mm (2.75 inches) tall. Aug. 5, 2013; 5:45 pm EDT
Note: The seed shown in the left photo is for reference only; it is NOT the seed that sprouted.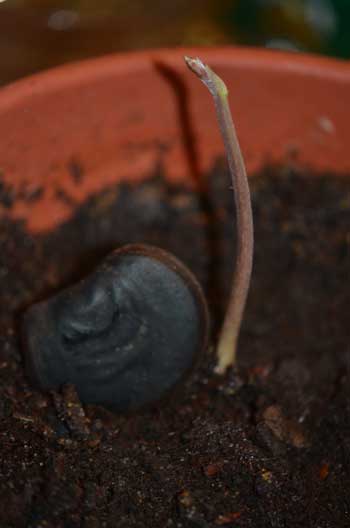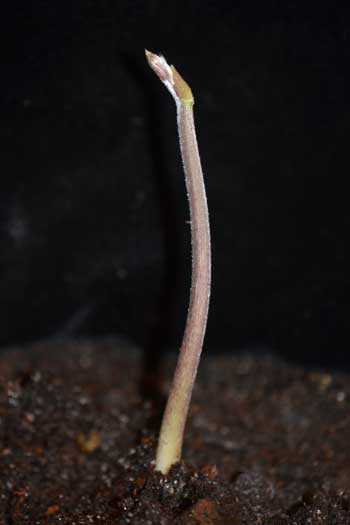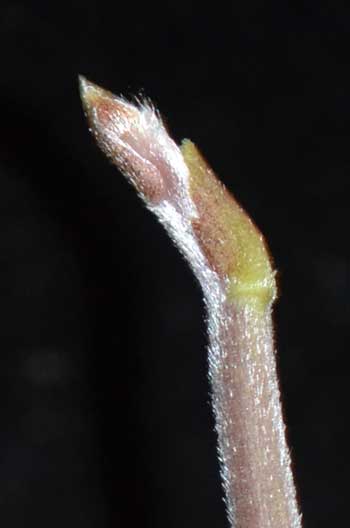 Young sprout,
2.75 inches tall.

The stem tip, at 30 inches total stem length.
The plant had grown 3.8 inches per day over 8 days.
Note the very hairy nature of the stem, characteristic of Dioclea spp.

Growing tip of a stem
about 3.5 ft. tall.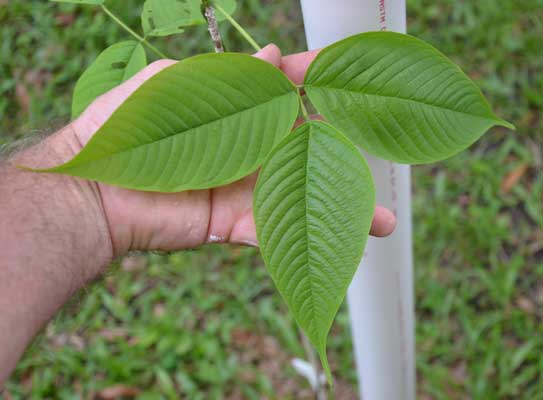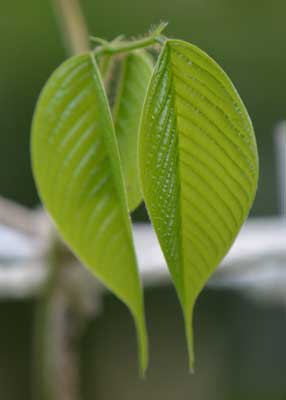 Three leaflets of a leaf of the "Large Flat
Dioclea
".
Note that, unlike the offset midrib of paired leaflets of
Mucuna
, the midrib of the paired leaflets is centered in species of
Dioclea
.
The January 2014 cold snaps (thanks, "Polar Vortex"!) hit my
Dioclea
plants, and others, pretty hard... possibly killing them.
Hopefully, the rootstock remains to grow again.
Fearing the worst, I prepared and planted 4 of these seeds and now (mid Feb. 2014) have 4 new sprouts!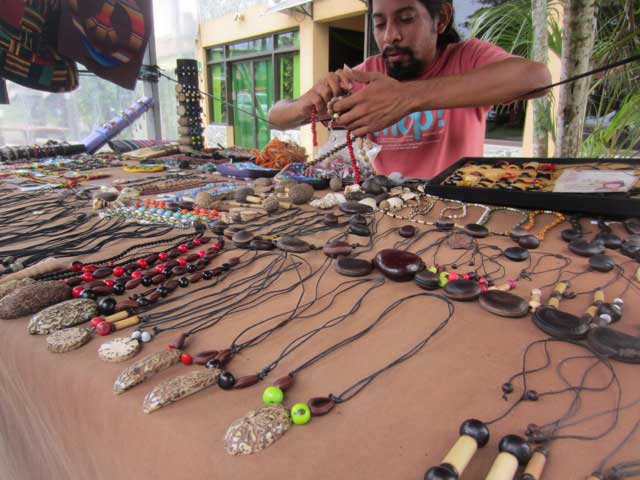 Costa Rican artisan with seed jewelry. Note the three "Large Flat
Dioclea
", center right of photo.
Photo: M. Mitchell, Feb. 2014