SEA-BEAN FOLKLORE
Good Luck: Bajugo Warrior Doll

This good luck doll is composed of several seahearts. The sword is a spine from a sea urchin.
The tag (printed front and back) accompanied the doll and has been transcribed here, for easier reading.
The doll stands 4 inches tall, including the yellow headress.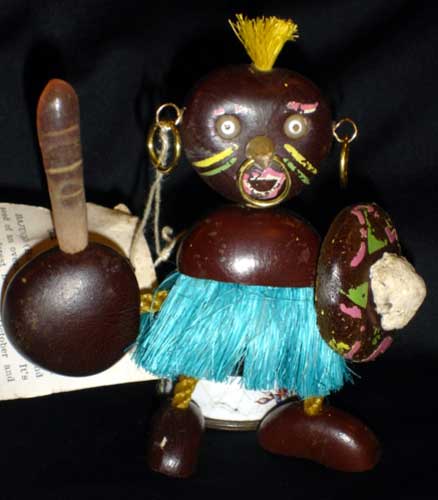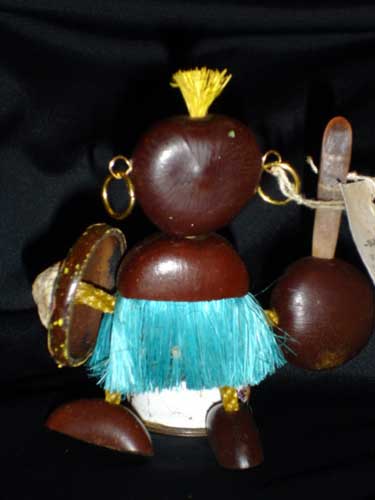 --- BAJUGO WARRIOR DOLL ---

My name is WARRI. For a long

time, I've been in deep slumber in a
cave without any power until the
spell was broken by some mysterious
spirit. Now, I am free and I can put
my mystic charms to good use. My
parents, BAJUGO WISHING DOLLS
attest to my abilities of giving justice,
protection, happiness and luck to any-
one who takes good card of me.

Remember that my sword symboliz-

es JUSTICE to the OPPRESSED; my
shield gives PROTECTION to the
WEAK; the color of shirt assures
HAPPINESS to the LONELY; and
LUCK comes when you hang me
where you can always see me.

Have faith in your wish and I shall

grant it.

P.S. Carry this tale in your wallet

whenever you seek my mystic powers!


MADE IN THE PHILIPPINES

TALE OF BAJUGO SEED



BAJUGO (BA-JOO-GO) is a kind of

seed of an oversized bean only found
in dense forest near a stream. It's
rare and blooms during October and
December. Added to its mysteries,
you'll always remember why people
seldom witness a seed fall. For as
the legend goes, they fall in mass at
night. Those in possession of them
seem to be on the better side of life.



MADE IN THE PHILIPPINES

Return to Top

Sea-Bean Folklore - Good Luck: Bajugo Warrior Doll
ALL web pages © www.seabean.com --- All rights reserved.
ALL photos © www.seabean.com or other photographers individually credited.
Use of ANY photo without written permission is prohibited!