The purpose of this web site is to educate people about sea-beans...
their identification, their source, their travels, their variety, their beauty,
and the plants that they produce.

This web site contains images and information about sea-beans (drift seeds) commonly found on the beaches of the Northwest Atlantic Ocean. The primary source for these sea-beans is the Atlantic side of South America, Central America, and the Caribbean.

This site contains images and information to help people identify sea-beans from any locality in the world, but the expertise available and typical visitor to this site is for help with tropical Western Atlantic and Caribbean species.

You can contact me at the following address:





Some History: This web site was started by Cathie Katz on August 2, 1998. In the summer of 1999, I volunteered to scan past newsletters and add them to her site. At the 1999 Sea-Bean Symposium I met Cathie and she handed over website maintenance to me. Cathie passed away on Thanksgiving Day in 2001; soon afterward, I was informed that she legally left the website to me in her will.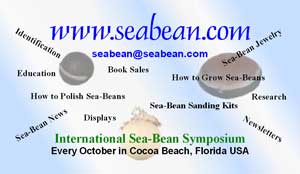 Click the business card for image download options.